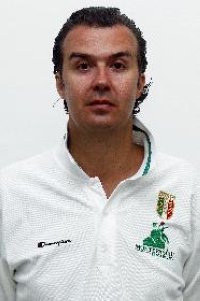 Simone Pianigiani
Simone Pianigiani was born in Siena on May 31, 1969. Simone Pianigiani is percentually the most winning coach in Italian basketball history. The numbers from his first three years as head coach of Montepaschi Mens Sana say so.
He won four national titles in 2006/2007, 2007/2008, 2008/2009, 2009/2010 – results never before seen from a new coach – with an astounding ratio of games played (167, play off inclided) and game won (155) for an average of 92.8%. Along with his other accomplishments as head coach are three Supercoppa Italiana (2007, 2008, 2009, 2010), two Coppa Italia (2009 and 2010) and one Euroleague Final Four participation (2008 in Madrid). Having developed his skills in Mens Sana's youth sector, with whom he won five National Titles (Cadetti in 2002 and 2003, Under 20 Open in 2004 and Juniores Eccellenza in 2004 and 2005), he covered the role of vice coach from 1995 to 2006. That job afforded him the opportunity to work with Cesare Pancotto, Phil Melillo, Luca Dalmonte, Edoardo Rusconi, Fabrizio Frates, Ergin Ataman and Carlo Recalcati. During these years, he's shined with Mens Sana Basket by winning their first National Title (2003/2004), two Euroleague Final Fours (2003 in Barcelona, 2004 in Tel Aviv), a Coppa Saporta (2002) and a Supercoppa Italiana (2004).
Titles Head Coach
Assistent Coach Youth Titles 4 National Titles 1 National Titles 2 Cadetti 4 Supercoppa Italiana 1 Supercoppa Italiana 1 Under 20 Open 2 Coppa Italia 2 Finale Four Participations 2 Juniores Eccellenza 1 Final Four Participation 1 Coppa Saporta Honors and Awards He wins the Lega Basket's "Toshiba Award 2007" for Coach of the Year and the "Premio Nereo Rocco" for Best Emerging Coach shortly thereafter. In February 2008, he receives the Premio Reverberi for Coach of the Year and then the Santa Caterina d'Oro, a prestigious award from the City of Siena. In August comes the Mangia d'Oro, the highest award from the City of Siena for a citizen that has distinguished themselves on an international level. Pianigiani has been sent by the Federazione Italiana Pallacanestro to teach at numerous national and international clinics for professional coaches. His career and the results he has achieved have been studied by instructors at various Italian universities, who've closely followed his practice methods to develop theses and lessons on coaching.