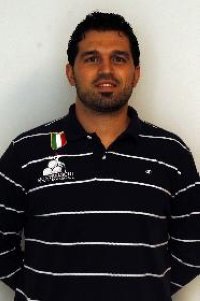 Alessandro Magro
Alessandro Magro was born in Castelfiorentino (FI) on October 14, 1982. He's been part of Mens Sana Basket's coaching staff since 2005/2006. Having come to Viale Sclavo during the 2005/2006 season after experiences with ABC Castelfiorentino, Basket Livorno and Viola Reggio Calabria, he works with the green-and-white youth sector and wins the Italian Under 18 Eccellenza title as vice coach.
Though still head of the Under 14 Eccellenza line-up, in 2005-2006 he becomes and integral part of the first team staff. His role goes above and beyond court work to include the all important tasks of scouting and video montage. As assistant coach to the first team, he wins two national titles, the Italian Supercup in 2007 and 2008, participates in the 2008 Final Four in Madrid, and wins a second, consecutive national title.
He also leads the Under 15's to the national title as head coach of the green-and-whites. It's the first in Mens Sana's history in a category other than Cadetti and Juniores. Still assistant coach for the green-and-whites, the following season, he's one of the craftsmen of the team's Italian Grand Slam: victories in the Supercoppa Italiana 2008, the Coppa Italia and the 2008/2009 National Title.
The 2009/2010 season commences with a Supercoppa win, followed by a Coppa Italia win, the club's second ever, and the 2009/2010 National Title victory, accomplishing a second Italian slam. Leading the Under 17 Eccellenza line-up, he wins the youth National Title, earning a star for the young green-and-whites' jerseys.
In October of 2010, the new season's first trophy arrives with the Supercoppa.