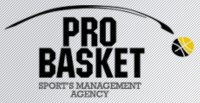 PROBASKET Sport's Management Agency
is an international full service agency providing services to professional basketball players.
It was founded in 2001 by Samir Avdic, FIBA licensed agent, former professional basketball player, who has built his career playing for European top teams, such as Bosna Sarajevo, Unicaja Malaga, PTT Ankara, Tofas Bursa and Tuborg Izmir.
He was also a member ex-Yugoslavian national team and captain of Bosnia and Herzegovina national basketball team.
With the necessary experience and knowledge that we have, our goal is to allow players to focus on their own progress and development on and off the court.
Those who become part of our team, we guarantee that their priorities and interests will be essential in our work. We are like a coach who is available 24 hours a day to its players.
Pro Basket is a young and ambitious sports agency that aims to provide its clients with good engagement together with a complete support that a professional athlete needs during the development of his career.
To the clients that we represent, as well as to the clubs to which we wish to present them too, we want to offer the best possible service and support, providing them with all the information necessary. Pro Basket sports agency is a reliable partner, which will always be available to offer you a complete and comprehensive service.
We are proud that you are interested in cooperation with our agency.
The partners of Pro Basket are mostly ex top athletes that posses extensive experience as well as first-rate contact networks within the world of basketball. Through our join efforts we can provide crucial assistance to some of the top upcoming talents in the world of Basketball.
Through fair, reliable, and professional conduct we wish to protect the interests of our clients, so that they can be exclusively focused upon the sportive challenges ahead of them.
Interested in cooperation? We are there to offer you our full support.