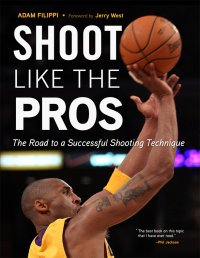 Shoot like the Pros: the Road to a Successful Shooting Technique
"The task of shooting the basketball is one of the more difficult skills in all of sports. I think Adam Filippis book "Shoot like the Pros" is the best on this topic that I have ever read. He refines the technique into basic movements from the feet to the final release at the fingers in very basic terms" – Phil Jackson, Head Coach Los Angeles Lakers-Hall of Fame Coach.
Despite being basketball's most important fundamental skill, shooting technique is perhaps the game's least-taught fundamental. Los Angeles Lakers director of international scouting Adam Filippi addresses this deficiency, drawing on years of experience as a player, scout, and skills coach in Shoot Like the Pros: The Road to a Successful Shooting Technique, perhaps the most comprehensive analysis of shooting mechanics ever published. Filippi covers shooting mechanics, the mental aspects of shooting, free throws, game situations, strength and conditioning, teaching methods, and workout drills for advanced levels.  Shoot Like the Pros features dozens of instructional photographs, diagrams, and tips from many of the top shooters ever to play the game, including Jerry West, Kiki Vandeweghe, Chauncey Billups, Glen Rice, Ray Allen, and more. This book is an essential resource for both players and coaches looking to perfect shooting techniques. SHOOT LIKE THE PROS is available in all major bookstores and online:
http://www.triumphbooks.com/products/shoot_like_the_pros/1572436263.php?page_id=49
or
http://www.amazon.com/Shoot-Like-Pros-Successful-Technique/dp/1600785468/ref=sr_1_1?ie=UTF8&s=books&qid=1298050135&sr=1-1
Thank you and enjoy the book!
Shoot Like the Pros PRESS RELEASE